Internet is a best way to increase your knowledge. You can find here any information of anything. But some websites do the illegal activities and keeps the viruses and trojans. Here we are going to discuss best firewalls for windows.
1. Comodo Firewall
Comodo Firewall Pro introduces the next evolution in computer security: Default Deny Protection (DDP™). What is DDP? Most security programs maintain a list of known malware, and use that list to decide which applications and files shouldn't access a PC. The problem here is obvious. What if the list of malware is missing some entries, or isn't up to date?
2. ZoneAlarm Free Firewall
ZoneAlarm Free Firewall blocks viruses that antivirus alone misses, stops hackers attempting to break into your computer, and unlike the default Windows firewall, provides outbound firewall protection to stop spyware from phoning home and botnets from taking over your PC. ZoneAlarm Free Firewall is easy for anyone to use. It operates automatically, due to its powerful DefenseNet cloud service, so users are not interrupted with unnecessary alerts.
3. Online Armor Free
Windows Firewall and other free firewalls do a pretty good job of keeping threats away from your computer, but many users prefer the extra security and support of a premium firewall. Emsisoft's Online Armor is a shareware firewall suite that offers strong protection against malicious programs, hacker attacks, and other privacy and security threats, but it's also designed to be as unobtrusive as possible while doing it. Its real-time protection means no lengthy scans; instead, Online Armor evaluates each program as it runs. The program has plenty of configuration options, especially in its Advanced Mode. For instance, you can block traffic from specific countries known to host hackers. There's a good Help file and other resources to sort it all out for you. Online Armor is free to try for 30 days. The latest release supports Windows 8.
4. PC Tools Firewall Plus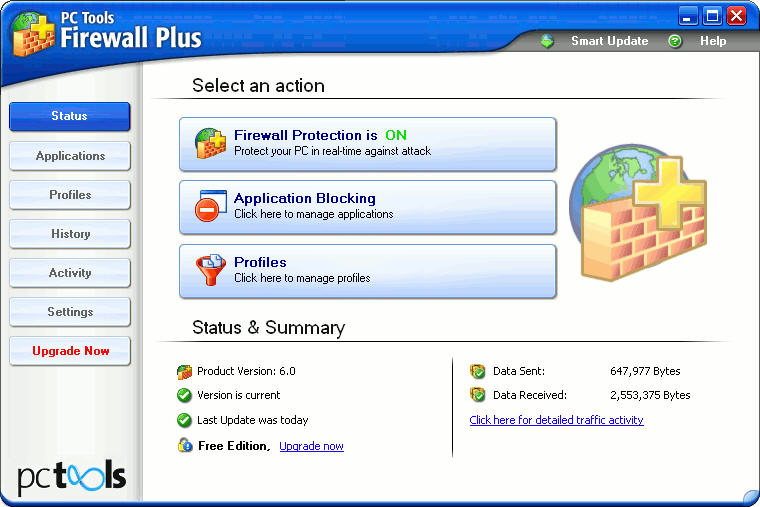 PC Tools Firewall Plus Free Edition is a powerful personal free firewall for Microsoft Windows that protects your computer from hackers and intruders. Firewalls control the network traffic in and out of your PC by monitoring applications that connect to the network. Firewall Plus can stop Trojans, backdoors, and keyloggers from damaging your computer and stealing your private information. PC Tools Firewall Plus is advanced technology designed specially for people, not experts. Powerful prevention against attacks and known exploits is activated by default and advanced users can also easily create their own packet filtering rules to customize the network defenses. The program is recommended for use alongside of AntiSpyware and Antivirus software like AVG or Spyware Doctor to protect PC against Spyware, hackers, worms, and viruses.
5. PrivateFirewall
Windows ships with an effective suite of security tools, including a firewall, but third-party firewalls are popular with many users. Many are free, and the most popular ones do a good job keeping millions of users safe from cyber attacks, hackers, and other intrusive threats.