A woman can't live without fashion just like a human being without Oxygen. We are sharing with you the hottest and latest winter fashion trends for women 2014 in this post.
Your outfits are the windows to your personality. It shows your lifestyle, your personality and many more small details about you and your choice. So why not go with the statement. Women are keenly interested in shopping for the latest fashion trends. They always keep an eye on what all is hot and try to make sure that they look their best. Trends and fashion change very rapidly these days. As the new fall and winter season is approaching, we have something that would definitely make you feel glad.
Below, we have tried to include all the latest trends that would be hot this season. You just have to choose your favourites and start your shopping spree. Have a look!
Skinny jeans
This winter skinny jeans make you feel warmer and stylish. Skinny jeans are tight fitted jeans and a perfect choice that matches up with every top and t-shirt or sweaters. There are many beautiful colors available in the skinny jeans section. You can go for dark black or blue this season.
Leather pants
For office use you must go for leather pants with long coats. You can wear black heels along for a perfect look.
Cashmere sweaters
They are the sweaters which will be very popular this winter. They are shirts from inside and short sweaters from outside. It makes you look trendy and smart. You can wear skirts, printed trousers or shorts along with this.
Tissue thin long sleeve t-shirt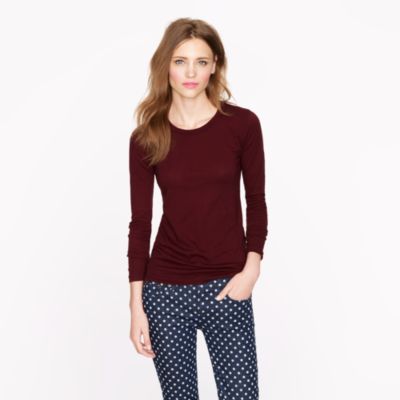 It is a long sleeve t-shirt which looks great with pants or printed trousers. You can wear this piece at any time of the year for an understated style statement.
A chambray button down
It is a button down sweater which can be worn along with skinny jeans and ballets shoes. That will give you simple but glamorous look and is a great fashion trend that is here to stay.
Bright colour coat
This year, blazers and coats that fit your form would be very popular.
Knee high boots
These boots have recently started coming back in demand. No matter the snow, you can wear them almost anytime you like and get a fabulous statement. This kind of boots work really well with short blazers and skinny jeans in light colors.
A knit sweater dress
You can also go for a knit sweater dress which will be really very trendy this winter. It is also very comfortable to wear.
A printed scarf
Scarf play an important role in winters, zig- zag printed scarfs should be your first choice, though animal and nature prints would also be quite popular this season.
A sleeveless shift dress
It is a flawlessly shaped sleeveless dress which fits both in office as well as in a cocktail party. You can team it up with high heels and bright colored bags. This will add more glamour to your personality.
A tuxedo blazer
A tuxedo blazer can do two contrasting things at a time. It can hide all the problem areas when left open buttoned and can accentuated a thin waist when buttoned down.
Leather leggings or coated jeans
This winter you must go with leather leggings or coated jeans which adds a glamorous look to your personality. They are comfortable to wear and look really trendy.
Baseball cap
This winter you can go for baseball cap with long jacket and straight lined jeans. Ideal for casual wear.
Black tights
Black tights will be a good combo with long tops. You can wear them for a more glamorous avatar while keeping it all very simple.
Bold pastels
This winter you can go out wearing bold pastels colors. Look for loose fitting pants in these colours for the best look.
Polka dots
You can add a dash of polka dots in a frilly blouse with a trendy coat and long boots. Some polka dotted bags and clutches are also available this season.
Under waist length coat
You can go for under waist length coat with leather pants and boots.
Turtleneck printed coat
You can wear a black turtleneck under a printed coat with heels. A leather jacket can also be added for a glamorous look.