If you don't have time to maintain your body and you want to do yoga then I have solution for you. You can read out 4 alternate exercise of yoga classes in this post.
Are you sick of your usual yoga class, or looking to switch things up after hitting your fitness plateau? We sent our reviewer to check out four different types of alternative yoga classes in Singapore that might just crank your usual fitness regime up a notch. 
SUP (Stand Up Paddle) Yoga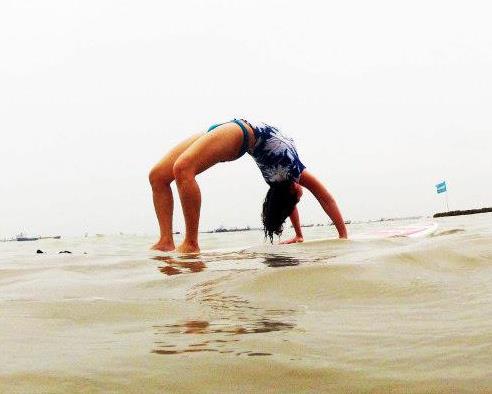 What it is: It's yoga on a Stand Up Paddle (SUP) board. SUP boards are generally longer than your average surfboard, which makes it easier to do the yoga poses. 
Our experience: Unfortunately for me and my rather crippling fear of water, I was not fully able to enjoy the entire experience because I was terrified of falling into the water (even though we were very near the shore). It didn't help that the weather was against us as well — the winds were strong and the waters were choppy. While it was a field day for the windsurfers, it was a bit of a nightmare for me. My friends, however, thoroughly enjoyed the class even though one of them fell off his board within 30 seconds of the first pose. 
But other than my fear of drowning, the entire session was actually really enjoyable. The SUP instructor, Nicole Chung, conducted a series filled with seated positions and deep stretches. Seemingly easy positions became difficult and maintaining balance was even more challenging. Nicole was however always on hand nearby to give useful tips. At the end of it, you'll discover muscles in your feet and hands you never knew existed. 
As with all yoga sessions, we end off with shavasana (Corpse Pose), which is like a reward you offer your body after an intense workout. The wonderful thing about SUP yoga is the environment you immerse yourself in. Imagine this – you're lying on your back with your eyes closed, every muscle in your body relaxed and melting into your board; the evening sun is warm and shining on you and all you can hear are the sound of waves around you. While we were advised to keep our hands on the board, I let mine dangle off the edges and into the water.
Verdict: This is great for all levels, including beginners. If you feel like trying something new this weekend, give this a shot. Unless of course you have an unnatural fear of water, then spare yourself (and everyone else around you) the trouble and stay on dry land. 
Floating Yoga Like Professionals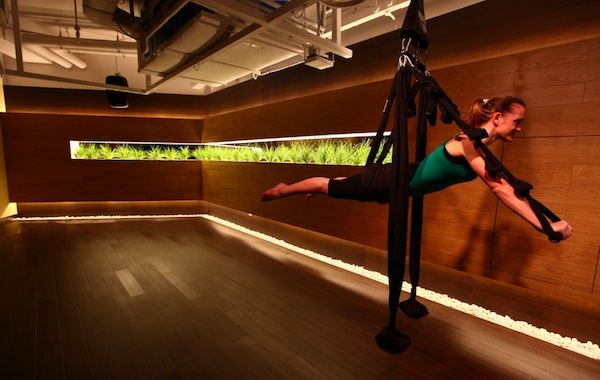 What it is: Floating yoga utilizes a hammock-like trapeze to support the body while performing nimble yoga poses. This innovative contraption helps alleviate pressure on the back and relieve compressed joints. Developed by Celebrity Fitness, this trademarked program is available only at their clubs. 
Our experience: There is a certain novelty aspect to this. How many people can say that they spent their weekend living vicariously like a circus act?  This was however, admittedly the most intimidating of the four classes — the idea of being held upside down by a harness is nerve wrecking, especially since I lack the strength to hold a handstand. 
Thankfully, the class started out with easy-to-follow warm ups, which were similar to TRX exercises. The instructor, Jenny, was patient and thoughtful –- she never once pushed the class beyond their limit. Getting into certain positions were challenging and it did require the participant to have a decent amount of core strength, flexibility and focus. One of the positions involved a full split in mid-air, with our feet and hands holding our bodies up with the various handles attached to the harness. It is easy to move from yoga position to another on ground, but hilariously challenging to control your body while in the air. 
The session was immensely fun and resting positions were exceptionally enjoyable. Towards the end of the class, we wrapped ourselves into the swing, like a baby sleeping in a hammock. 
Verdict: Floating Yoga is open to yoga practitioners of all levels, but it would be best to lock in a few weeks of exercise first before diving right in. If I didn't already have an existing gym and yoga membership, I would sign up at Celebrity Fitness in a heartbeat. 
Ganban Yoga at Anti-oxidant 
What it is: Hailing from the land of the Rising Sun, Ganban Yoga is quite similar to most hot yoga sessions, but loaded with a multitude of health benefits. The one-hour session is conducted on top of specially manufactured ganban (granite) slabs that are said to help improve blood circulation, speed up metabolism and accelerate the production and restoration of collagen, and comprises of a 45-minute yoga session and 15 minutes of relaxation. The room is heated to between 39 to 41 degrees, with a lower humidity level than most other hot yoga rooms, which makes it easier to breathe during the session. 
Our experience: The class I attended focused mostly on the sun salutation series, warrior poses and deep stretches. I thoroughly enjoyed the session because it was limited to a small group of people (there were four on a weekday evening) and the instructor was able to spend more time guiding each of us. 
At the end of the exercise, we removed our yoga mats and spent 15 minutes lying on the granite slab, which was much hotter than I expected. Pillows and neck cushions are available as well. 
Verdict: This is suitable for beginners and those looking for a slightly less intense workout. If you're around the area, or if you're looking to reap the anti-aging benefits, give this a go. The staff are very friendly, helpful and attentive, which rates high in my book. Customers are given a complimentary bottle of water before each session and a yummy enzyme juice shot after. 
AcroYoga at Om Shiva Yoga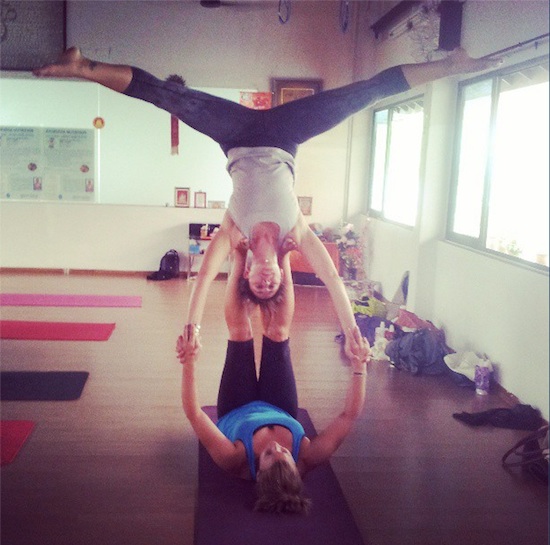 What it is: Have you ever felt the need to run away and join the circus? AcroYoga would be the closest thing to it. There are two types of AcroYoga, and the version I tried combines acrobatics, yoga, and Thai massage. 
There are three main roles in AcroYoga: the base (the one at the bottom doing the heavy lifting), the flyer (self-explanatory) and the spotter (the one who's going to save you if and when you fall off). There are plenty of misconceptions about AcroYoga, but it all boils down to a few things – trust, technique (and strength) and practice. And contrary to popular belief, you don't need a partner for the AcroYoga class — you can join in the fun and make some friends along the way. 
Our experience: The lesson started with some partner warmups, which not only served to prep the body, but also to get the class comfortable with one another. Getting into the position the first time is challenging. As the base, you are essentially using your lower body to lift at least 50kg. As a flyer, you have to trust that your base and spotters are there for you. As a spotter, it's your responsibility to ensure that the base is given additional support and the flyer is aware of what's happening. With proper alignment, awesome teachers and a kick-ass team, we got into each position with little difficulty.
 
And once you do get it right, you'll be hooked — there is nothing more liberating than to be held upside and have all your blood rush to your head. AcroYoga is fun, exciting and thrilling, and also a delicate balance of moving and being moved. The wonderful thing about it is that builds trust, not just in your teammates, but also in yourself. As you learn to support others, you allow yourself to be support by others. 
At the end of the session, we were partnered up and took turns to learn how to give a proper Thai massage. This was hands-down (no pun intended) a well-deserved treat after an afternoon of fun and entertainment. 
Verdict:  A note to all seasoned yoga practitioners: you have to try this at least once in your life. The Thai massage lesson at the end of the class is really the icing on top of an already delicious cake. Whether you have a partner, a bunch of friends or on your own, this is not a class to miss.