You can earn money online. Yes, it is true but not so easy. In my opinion website creation for this purpose is the best way. When you entered in this market a risk starts walking with you. You have to do something more. You have to take backup of your website. In this article we will discuss today how to backup Joomla websites and restore.
Today we are going to talk about Akeeba Backup. Akeeba Backup is one of the most popular Joomla components available and here we go that Akeeba produce the highest power extensions for the Joomla Content Management System for the core users of the community and the free much choice and the access to the software service code. Akeeba goes even further documentation you see in Joomla extension amazingly available free of charge.
What we will discuss here:
How to install Akeeba Backup in Joomla?
How to create a backup of Joomla site and download the backup to a computer?
How to restore a backup using Kickstart?
How to Install Akeeba Backup in Joomla?
First of all download Akeeba Backup from http://akeebabackup.com. Remember you have to download version which is compatible with your Joomla version. It will be simple zip file. After that now you are going to Extensions in which Extension Manager. Extension Manager page is in front of you. Here you will find out a browse button along with an empty field. You have to click on Browse button. And then you have to give location where you've saved your Akeeba Backup's Zipped file. After that you will find out another button here that is Upload & Install. Just click on it.
It has normal installation like every Joomla component you install. That is quite easy. Now you are seeing the page where everything has been installed normally.
Let's go ahead to configure a backup. You can go to Components and then click on Akeeba Backup and the very first time let we do that after we install Akeeba Backup or after we upgrade Akeeba Backup we see this page. I would recommend leaving the Run the Configure Wizard checked because this gonna love Akeeba Backup automatically configured itself for your optimize settings what so ever. This means it turns have to all the configuration itself.
Here is another check box in front of you. This is I have read, understood and accept the license of the software. Everyone knows this is EULA user license agreement. You have ever seen it before downloading or install any software in your pc. You also know that you can't do work on any software without agreed with terms and conditions of the software so the same condition is here. Mark it as check.
Another checkbox is waiting for you here which written as I understand that support for the software is only provided to subscribers. If you are not a subscriber then they are not going to support you anymore. You have only access on your computer. It means you can only read solutions their which are discussed by others and you have also access to documentation which can helps you on basically how you can run the software. Actually 99% of any problem that you make has backing up or restoring your website can be solve by reading the documentation.
Now the final and very important thing you need to agree I understand that an untested backup is as good as no backup at all. This is very important some people believes that they can setup a backup never tested and what there setup goes down. They will have to figure out if it works how to works. That point is actually has worth. So, I would recommend every time you do any important things on your site if your backups. Make sure that everything works.
Now Akeeba Backup automatically gone for its configuration wizard. If you can go through several possible settings to find out which one of them is the best for your website. The goal of the configuration wizard is to make it a backup as fast as possible without facing any problems to your host. It is actually the longest part of the configuration.
How to create a backup of Joomla site and download the backup to a computer?
Right, now we are ready for a backup. You can either click directly Backup Now button to take the backup or you can go back to the control panel by clicking the Control Panel button. This what I am going to do and also want to show you.
For its backup you can type in the Short Description by default it set Backup taken on plus the date and time of the backup.
This is what you going to see the manage backups at on the Component and I am going to type here this is my first backup. In case you need more information for your record enter it in the Backup Comment as much information as you want. This information will also be available when you restoring your website. There is nothing that I want to type here. I am just clicking on Backup Now.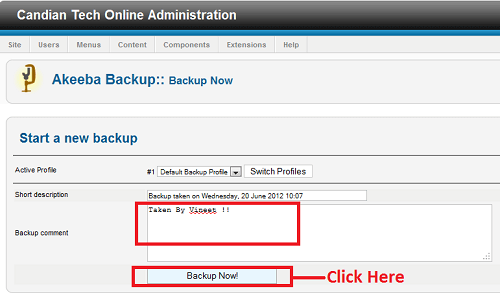 You see now page where backup process is on. It also use that it goes to several steps as in its process putting these installer archives, backup the database,  backup the files and finalizing the backup.
So, if you are on a speedy server you will see that the backup of the basic Joomla site completes in about 20 seconds. Let's go now to manage backups. Just click on Manage Backups.
Here you see our first backup. You can see the description we typed in, the time when backup started, date when backup started, the time when actually completes the backup in several seconds, the size of the backup.

And here you can manage and download the backup archive. By clicking on this link you can download the backup file on your computer. If you have a very smooth backup that is in MBs you can do that I say if you have a backup archive more than 25 MB don't. If you have a large backup then I want to recommend you to use the FTP service or software to download this backup.
If you are feeling pain because of your large backup and you are searching alternative for this then I can tell you another way. You can use any FTP software for this purpose. If you have then you can go in administrator/components/com_akeeba/backup. Here you can find out your backup file. Just drag and drop the file.
Here I want to tell you from basic even wash out your httpdocs folder. For this purpose I am going to delete all files from this folder. It means you are going to trash your website with your own hands. Now, I am going to my web browser and I refresh my page and I found apache default page. This is because of I deleted all files from my httpdocs folder. This is no problem if you have a backup file. If you don't then definitely it is a critical situation.
How to restore a backup using Kickstart?
Now, I am going to discuss how to restore your website from backup file.
Here is another Joomla component that you have to download. Again you have to visit http://www.akeebabackup.com. That is Akeeba Kickstart. Akeeba Kickstart is very useful component to give you ease more than Akeeba backup. Akeeba Kickstart is used to extract JPA and zipped files of your backup files online on the server. Download it.
It is a zip file also. Obviously you can't run the zip file who needs to extracted first. First I want to suggest you an easy way that I use to work. First of all make a new folder at your desktop. Copy here your backup file that you've got from FTP or downloaded from control panel of Joomla. And also you have to copy here Kickstart package's zip file.
Now I am going to extract this Kickstart zip file in this folder. First, right click on the zip file and  select Extract Here… Now you are seeing many files extracting in this folder. After this process delete this zip file of Akeeba Kickstart package. Your folder is ready to upload. Start again your FTP software and upload all files that you've in your folder in httpdocs folder. Now open your web browser. Write here your website's address like this http://www.yoursite.com/kickstart.php.
When you will enter this address a new page will appear on your screen contains heading like "Things you should know about Akeeba Kickstart". If you want to read this is good but if you don't then simply pres ESC key. Otherwise another link you will see at the bottom of the page written as "Click here or press ESC to close this message" click on it.
Now, if we have much backup files we can select here what we want to restore.
Anyway we have only one that is automatically selected the rest of the options are explained in documentation but the most important option is extraction method. If you will do not touch this option it will startup default setup that is recommended. Now just click on Start.
Here is a processing image, nothing to do here. Just wait for the next option you will be able to see after completion of this setup. Kickstart has finished extracting or backup ok. Now you can click on Run the installer.
Right after that a page will appear on your computer screen there is nothing to do except click on the next button. Now you are on the DB Restore. This is very important portion. You should fill this form with open eyes and fresh mind and carefully. First field is Database type (usually "mysql"). If you are using MySQL database then you should not change it. Next field is Database server host name. You can leave it empty and now the main fields that can be reason of stress for you if you don't type here carefully. Next field is User Name. Here is required user name that you have created a user at the time of creation of DB (Database). On next field you should type here the password which you was set for user name of DB. And now the last field is about Database Name. Type here correctly your database name. Now there is nothing to do anymore normally. Just click on Next.
After that a new window opens that DB Restore. Now you should give here your database information. Akeeba Kickstart automatically sets up your backup information if you doesn't have change from previous. If it is then do not change anything else here. Here is nothing to do anything more just click on next.
A new page is in front of you that is Site Info. You can give here the site name, e-mail address and sender e-mail address. It will updated automatically from previous. If you have didn't change anything leave all fields as it. and Just click on the next.
Now another screen with the Finish is in front of you. You are also seeing there a hyperlink which remove the installation directory. Just click on it.
Now here is your site. Definitely if you have your website's backup big loss can't be yours. You are free for any query of your Joomla Site. 🙂