Every computer, laptop, tab pc, smartphone has a necessary software to play media files. Which is called Media Play. Here is some top Media players for computers and laptops.
1. VLC media player
VLC is a free and open source cross-platform multimedia player and framework that plays most multimedia files as well as DVD, Audio CD, VCD, and various streaming protocols.
2. KMPlayer
KMP is a versatile multimedia player which can cover a various different types of contained formats. Without any separate Codec, you are able to play any media files because KMP has its' own internal Codec. Supported Codec are separated by internal & external. For the sound Codec, KMPlayer supports AC3, DTS, MPEG1, 2, AAC, WMA 7, 8, OGG & etc. and it additionally supports matrix function/normalizer function when internal sound Codec is being used. Internal Codec gets processed inside of KMPlayer so it's faster & safer. Also KMPlayer supports all the Codec from ffdshow and it additionally supports MPEG1/2. If you're a user who finds it inconvenient to install Codec, who has a low CPU computer and/or a user who strives for an excellent multi-media playback player, you'll be able to modify your environment to a convenient multi-media format by using KMP.
3. GOM Media Player
Not only is GOM Media Player a completely FREE video player, with its built-in support for all the most popular video and audio formats, tons of advanced features, extreme customizability, and the Codec Finder service, GOM Media Player is sure to fulfill all of your playback needs. With millions of users in hundreds of countries, GOM Media Player is one of the world`s most popular video players.
4. Media Player Classic
MPC-HC is an extremely light-weight, open source media player for Windows®. It supports all common video and audio file formats available for playback. We are 100% spyware free, there are no advertisements or toolbars.
5. Jet Audio
JetAudio is integrated multimedia software made up of a single compact rack. Not only does it play various music and video files, it also has features such as CD burning, recording, and conversion to other file formats. You can create your own Internet broadcast by using JetCast, provided with JetAudio, and you can play all major file formats, including WAV, MP3, MP3Pro, OGG, WMA, MPEG, AVI, WMV, MIDI, RM, and video and audio CD tracks.
6. SMPlayer
SMPlayer is a free media player for Windows and Linux with built-in codecs that can play virtually all video and audio formats. It doesn't need any external codecs. Just install SMPlayer and you'll be able to play all formats without the hassle to find and install codec packs. One of the most interesting features of SMPlayer: it remembers the settings of all files you play. So you start to watch a movie but you have to leave… don't worry, when you open that movie again it will be resumed at the same point you left it, and with the same settings: audio track, subtitles, volume…
7. Winamp Media Player
Winamp is a skinnable, multi-format media player. Winamp supports a wide variety of contemporary and specialized music file formats, including MIDI, MOD, MPEG-1 audio layers 1 and 2, AAC, M4A, FLAC, WAV, OGG Vorbis, and Windows Media Audio. It supports gapless playback for MP3 and AAC, and Replay Gain for volume leveling across tracks. In addition, Winamp can play and import music from audio CDs, optionally with CD-Text, and can also burn music to CDs. You can extend Winamp's functionality through the use of plug-ins, which are available on the Winamp site.
8. Windows Media Player
Designed by media lovers, for media lovers. Windows Media Player plays more music and video than ever, including Flip Video and unprotected songs from your iTunes library! Organize your digital media collection, sync digital media files to a portable device, shop online for digital media content, and more—with Windows Media Player.
9. MPlayer
MPlayer is a movie player which runs on many systems (see the documentation). It plays most MPEG/VOB, AVI, Ogg/OGM, VIVO, ASF/WMA/WMV, QT/MOV/MP4, RealMedia, Matroska, NUT, NuppelVideo, FLI, YUV4MPEG, FILM, RoQ, PVA files, supported by many native, XAnim, and Win32 DLL codecs. You can watch VideoCD, SVCD, DVD, 3ivx, DivX 3/4/5, WMV and even H.264 movies. Another great feature of MPlayer is the wide range of supported output drivers.
10. Zoom Player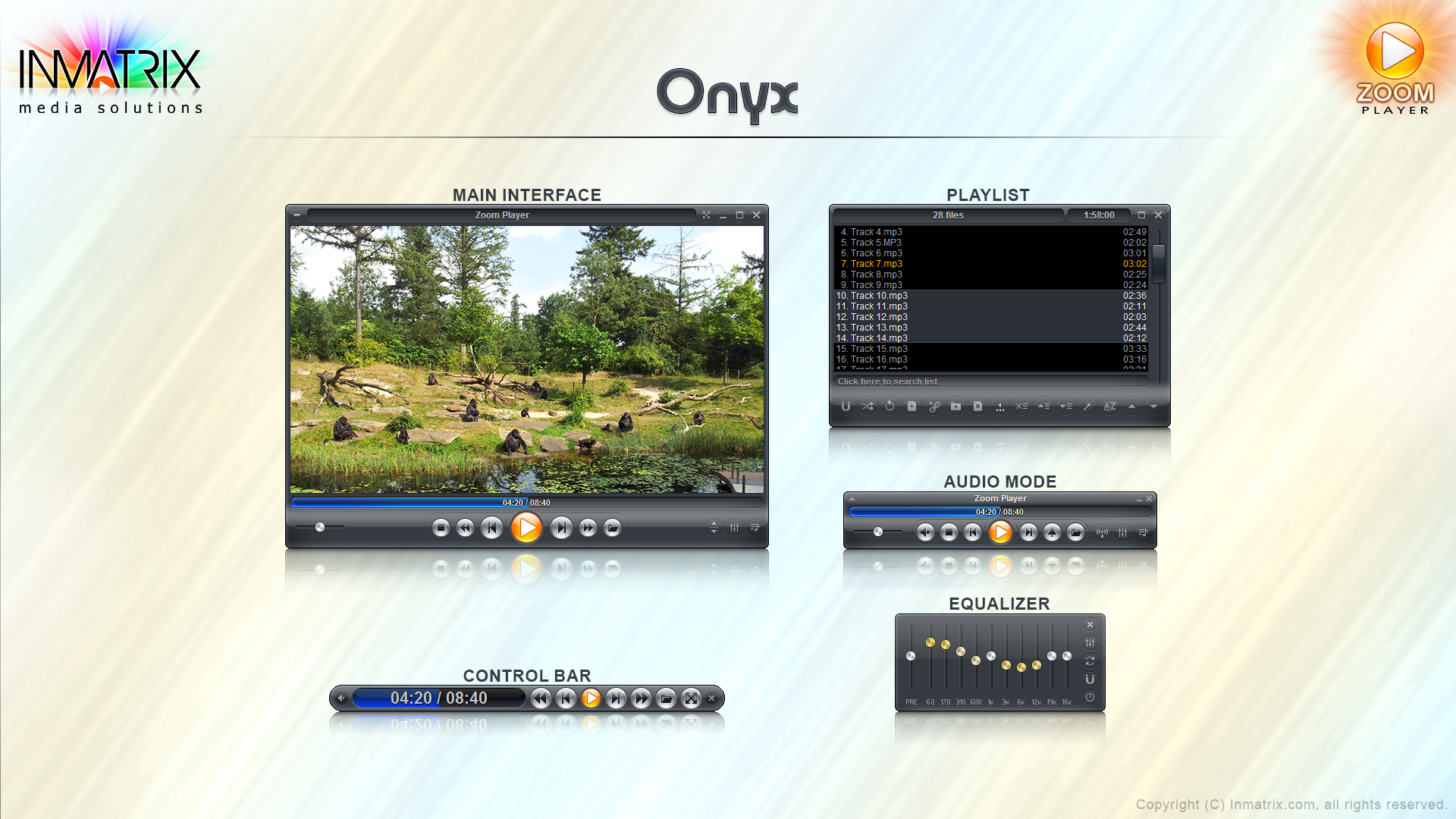 Zoom Player is the Smartest most Flexible and Customizable Media Player for the Windows PC. Based on our powerful 'Smart Play' technology, more media formats play with less hassle, improved stability and greater performance.Beyond Zoom Player's classic media player features is a powerful Media Center full screen interface designed for use with five simple keys (up/down/left/right/select).