Check out this awesome professional, free premium psd files collection. A must to have psd pack for every designer. Some files may require registration to download but will take just a minute to get em!
1. Sleek and Flat Icons
a subtle gray and blue combination give this an air of professional and business like appeal. Complete with button states, alerts, toggles, social icons and switches there's lots to play around with and alter for your own uses. Thanks to pixelatedminds for this amazing PSD Set.
2. Temperature Pins Elements
Temperature pins for a weather and map application. They show the Temperature of the area via a speedometer type display for a visual reference, below a certain temperature the guage shows in blue and orange / red when hot. This free set comes in 3 different sizes and 3 different colors and all layers are there for you to alter, change colors and effects and basically make them your own. Have fun! Thanks to pixelatedminds for this amazing PSD Set.
3. Folded Map With Handel Pins
beautifully created folded map with drop pins… all layered and grouped for your convenience. Thanks to pixelatedminds for this amazing PSD Set.
4. Beautiful Media Player Skin For Your Website
Everyone loves a layered media player right? Not a direct copy of quicktime player, or youtube etc but something unique you can sink your teeth into – go get it! Thanks to pixelatedminds for this amazing PSD Set.
5. Dark Psd Web Ui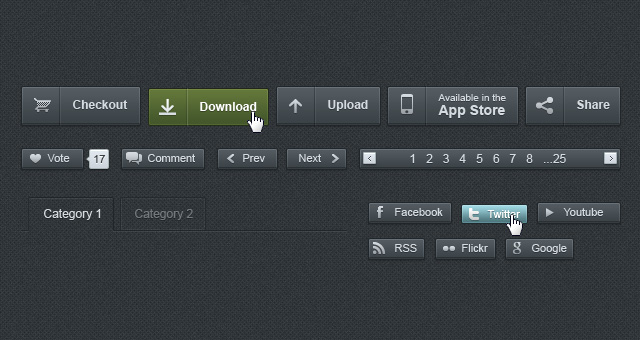 A minimalist dark psd web ui with web elements to make your website design stands out in the crowd.
6. Classic Grey Website Psd Elements Set
A complete classic and light grey themed psd web user interface  to design any clean and modern website. Buttons, Slider, Input, Pagination and more. Everything you might need at your fingertip.
7. Corporate Black & Green Company Profile
A nice clean 11 x 8.5 bi-fold corporate brochure with a contemporary design. You can swap photos and change colors with ease to adapt it to any project you are working on. All fonts and photos are royalty free.
8. 3D Social Icons Set
A complete set of 31 social icons prepared with their rollover state coming in 256px, 128px, 64px and 32px. You get two rollover style: 3D and lighting up effect already prepared for you in html/css format. Many options to get creative here.
9. Funky Avatar Psd Set For Website Comment Systems
Create any face and expression easily with this complete package. Head, hair, mouth, eye, arms, clothes, position can be mixed together for near infinite possibilities. Or you can choose one of the 31 ready made cartoon characters.
10. Bi Fold Fashion Profile
A psd bi fold brochure mock-up template to showcase your design with class. Prepare your file at 580 x 950px and the smart object action does all the work for you displaying your leaflet perfectly.
I know every professional web / print designer always love this kind of stuff. All files are royalty free and have all required stuff like fonts. Anyways I will wait for comments on 7th number black and green profile. I love this kinda stuff a lot…