You can edit music files and can make ringtones from songs with these 11 free and best professional audio editing softwares. Just check out which can impress you.
With so many audio editors out there, finding the right tool for the job can be tricky. The multiplatform, open-source editor Audacity has leaped to the top of our list with its clean interface, excellent features, and support for 32-bit floating-point audio. Audacity succeeds at being both feature-rich and flexible, while keeping the toolbar and work space uncluttered. It does this by relegating most functions–such as effects, edits, and project management–to handy drop-down menus.
For a lightweight, portable audio editor, Wavosaur has a lot going for it, starting with ASIO and VST compatibility and including recording, editing, batch conversion, audio analysis, looping, and real-time effects processing and resampling. Wavosaur is also MIDI-compatible, and its commands can be triggered and controlled by external MIDI devices. Though a compact 768KB in size, Wavosaur packs some advanced features, too, such as volume envelope analysis and editing, slicing, auto-slice, and waveform generator. It handles most media file types, accepts plug-ins, incorporates high-quality spectral displays, and has plenty of support, including a user forum, tutorials, and skins. Recent updates include new VST and rack visualizations. Wavosaur is portable freeware (donationware) for Windows 2000 to 7.
WavePad is music editing program for the Windows OS. WavePad allows you to create and edit voice, music and other sound recordings. You can duplicate sections of recordings and add echo, amplification, noise reduction and other effects. The following is a list of features for WavePad Music Editor. We recommend you download and install the software to give these features a try. The download is free.
Acoustica Basic Edition is the free entry level version of Acoustica, a comprehensive solution for professional audio recording, editing and mastering. The intuitive user interface was designed with speed, accuracy and ease-of-use in mind and gives access to a large set of powerful tools to make your recordings sound the best. The consistent workflow simplifies your production work.
The program is designed to be very easy and intuitive to use for audio editing. Within minutes you will be able to open or record music and edit it. But if you take time to explore the other features you will find many powerful tools for editing audio designed with the professional sound engineer in mind.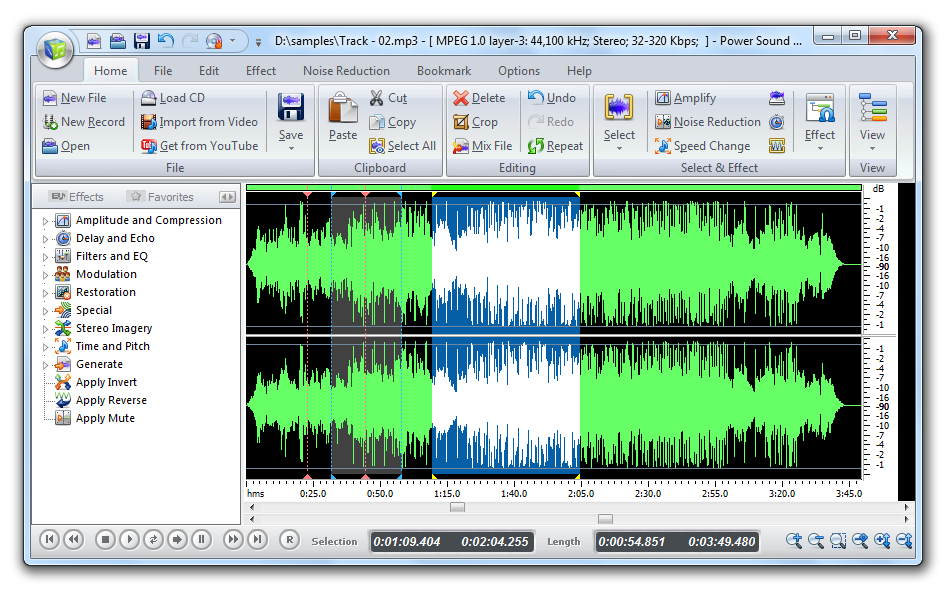 Power Sound Editor Free is a visual audio editing and recording software solution, which supports many advanced and powerful operations with audio data. You can use Power Sound Editor Free to record your own music, voice, or other audio files, edit it, mix it with other audio or musical parts, add effects like Reverb, Chorus, and Echo, and burn it on a CD, post it on the World Wide Web or e-mail it.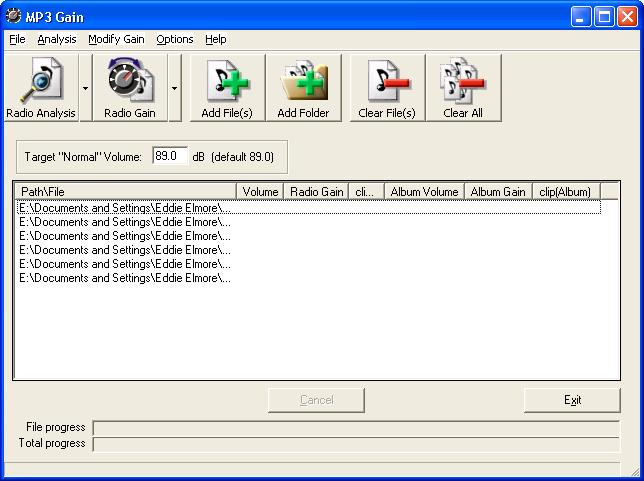 MP3Gain analyzes and adjusts MP3 files so that they have the same volume. MP3Gain does not just do peak normalization, as many normalizers do. Instead, it does some statistical analysis to determine how loud the file actually sounds to the human ear. Also, the changes MP3Gain makes are completely lossless. There is no quality lost in the change because the program adjusts the mp3 file directly, without decoding and re-encoding.
Reaper is a sensible Windows application designed for the recording, arrangement, editing, mixing and rendering of audio. Reaper provides a flexible but easy to use interface that is equally suited to amateurs and professionals alike. Reaper works with almost any hardware and can be used in combination with a vast universe of other software and plug-ins.
WaveShop (64-bit) is a free and open-source audio editor. Editing a portion of an audio file only affects that portion and the rest of the file is untouched. Blocks of audio can be cut and pasted without changing their contents at all. This is especially useful for patching a finished master without corrupting its dither. Features include bit-perfect: samples aren't changed needlessly, all processing is done in memory, 64-bit version can edit files exceeding 2GB, clipboard: copy, cut, paste, insert, or delete, unlimited undo, normalize and/or fix DC offset, amplify (boost or attenuate), fade in, out, or custom, linear or logarithmic, peak statistics, RMS statistics with histogram, reversal and inversion, find clipping with detailed report, extract channels to mono files, insert, delete, or swap channels, change audio format, generate audio w/ envelopes and modulation, edit surround speaker assignments, find zero crossing, Multiple Document Interface (MDI), multithreaded processing, and playback via DirectSound.
Mp3DirectCut is a tool for frame based editing of MPEG Layers three and two. You can remove parts, change the volume (on MP3 only), and split files or copy regions to several new files. All without the need to decompress your MP3 into a PCM format. This saves work, encoding time and disk space. And there is no quality loss through any re-compressions. Mp3DirectCut gives you extensive control over your MP3s: Several prelisting functions, MP3 visualization and VU meter, Easy navigation, Fading, and volume setting.
DJ Audio Editor is an easy-to-use and well-organized audio application will let you explore your favorite songs and sounds in ways which you would never have imagined. You can add or detract hundreds of audio effects to your sound files like Amplify, Add Noise, Delay, Flanger, Chorus, Reverb, Invert, Reverse, Fade In/Out, Phaser, Time Stretch and Pitch Shift. You can also put several of these effects together to create your own unique effects. Well, this audio editor supports practically every audio format that exists. The incredible filters allow you to add endless innovation to music creating and design, and also displaying a waveform or spectral image of audio file makes your work faster. Not only this, you are not confined to any one format after the editing, you can save the file you just edited in a vast array of formats including MP3, OGG, WAV, WMA, AAC, AIFF, FLAC, M4A, MP2 so that your audio files are playable everywhere on any system.