Here is a good news for you. Now, no need to keep tension in your mind about "How to convert images into text" or " How to convert PDF into text". Enjoy the solutions in this post.
OCR to Word is a text recognition software that can save you countless hours, re-typing all the work you have already written out. It can take any image, document or scanned item and convert it into a editable, readable and accurate Word document. You can download OCR to Word for free from their website here. It also allows for zooming and specification on what part of an image you need. It is optimised to work with any scanner and boasts a 98% accuracy rating.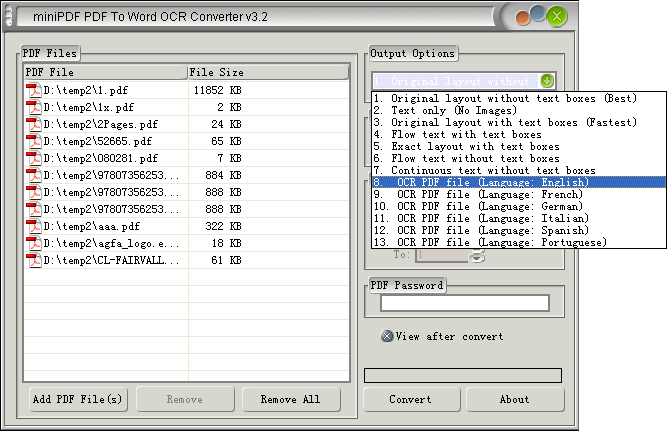 FreeOCR is built using the latest Tesseract engine, which is one of the most powerful engines for software of this type. It can deal with multiple file formats, including PDF, Tiff and faxes. It is completely freeware and can be used at any time, as well as distributed for free. You can download it directly here. Tesseract is maintained by Google, following the success of the OCR engine in the 90s. The software optimises the power of Tesseract, and allows it run file types it usually would not be able to.
One of the most popular OCR software out there, with more than 300,000 users worldwide. It is free to use and can even be edited from scratch for you to design similar software. It has no limitations in the form you can download it in, and is completely free for anything you wish to use it for. You can find improved equivalents on the ScanStore.com website, which gives you better features when it comes to more complex documents. But this can easily handle most legible writing, saving you countless hours in the process.
Many people use Evernote because it allows you to organise and set up your professional and personal life in easy to access locations, making work a lot less stressful. It syncs up effortlessly with other hardware like smartphones and tablets, but one of the most under-used parts of Evernote is the OCR feature. This gives Evernote not only another great feature, but could allow you to store important memories and information through photographs, you can simply key in the word you are looking for which allows you to go straight to your images, tagged in Evernote for easy access.
Boxoft provide a huge host of quality paid converters and other software. It is a free software, even for business use, and it is extremely quick to extract and convert. The user-friendly interface allows it to work quickly, and also a high accuracy which can make your re-typing of mistakes much quicker. However, should you purchase a license for Boxoft software, you get free upgrades for life – even if they completely revamp the software and sell it for a much higher price. If you don't like the additional features and the free upgrades, you can get your money back within 30 days if you are not happy with the quality of the product, but Boxoft consistently produce quality goods, so it's definitely worth keeping an eye on.
This tool from free-ocr.com allows you to extract text from any image,including JPG, GIF, TIFF, BMP or PDF. The tool can handle images with multiple columns and supports up to 29 languages, mostly languages of Latin origin, and eastern languages like Chinese, Korean, Arabic are not supported. The tool is easy to use, you just upload an image and then select the target language then hit "Send File" to get your converted text. A few limitations are your uploaded image can not be larger than 2MB and for PDF files with more than one page. It will only convert the first page.
Onlineocr.net allows you to extract text from images in JPG, JPEG, BMP, TIFF and GIF and then output the files in WORD, TEXT, EXCEL, PDF and HTML formats. The tables, columns and graphics in the original files will  be converted so it will look like the original ones. It also supports most languages of Latin origin and it allows you to upload images up to 4 MB.
Newocr.com is another tool that allows you to convert files in JPEG, PNG, GIF, BMP, TIFF, PDF AND DjVu to text. It does show a very large range of languages for you to convert including Chinese, Arabic, Japanese etc, but after a few tests, it is still unable to recognize exotic scripts other than Latin. But it does offer a few unique features that are not seen in similar tools, for example, it allows you to rotate images, remove gray shadows on an image so it get more accurate results.
This tool from abbyyonline.com seems to be the most powerful one among the five. It allows input and output file formats of a very large range. In addition, it also allows you to upload images up to 30MB. Most importantly, based on our tests, it works for other non Latin scripts like Chinese, Arabic Thai etc, though the results are not very accurate, but still desirable. Just to mention, the service  requires you register an account and confirm your email address and if you want to convert more than 3 pages, you will need to buy pages.
Free online OCR (optical character recognition) solution for you to extract text from images.